Energon, G&L and Imsoft launch new web-shop for official Ecolabel products

We have been developing an internet shop (
www.ecolabel-products.eu
) for official Ecolabel products only. The web-shop in English and German will be online from autumn 2009. It will include more than 1.000 products from more than 300 European suppliers and will focus on the European hospitality sector.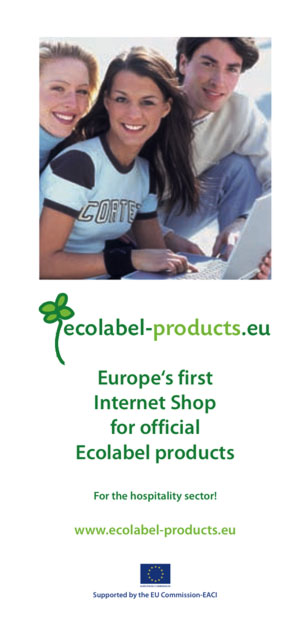 Zum Download des Info-Folders hier klicken
Official Ecolabel products
The internet shop offers only ISO Type I Ecolabel products including:
Steps of the project
Listing Ecolabel products from European manufacturers and securing the best price.
Set up an environmentally friendly delivery.
Contact tourist managers directly to present www.ecolabel-products.eu and promote the internet shop in Europe.
Official launch of the internet shop in October 2009.
Extension of the internet shop all over Europe.
Environmentally friendly delivery
Environmentally friendly delivery for all products will be organised as well as regional suppliers chosen automatically. In addition CO2 compensation will be offered to minimise negative environmental effects by transport.
Join our internet shop!
To improve environmental performance we need to co-operate. You can support the EU Ecolabel by:
spreading information of Ecolabel products in Europe
using the Internet shop as a distribution channel for your eco-certified products
checking the advantages of Ecolabel products for your accommodation and move towards a green public procurement
Advantages of www.ecolabel-products.eu
First European internet shop which only offers products certified with an official Ecolabel
Environmentally friendly products available all over Europe
Environmentally friendly delivery
Secure Encashment service
Advantages of Ecolabel products
High quality goods where energy, water and waste were minimised during production
Increased efficiency during usage, e.g. by the use of water efficient equipment like flow regulators for showers and water taps or microfibre cleaning towels etc.
No hazardous waste during usage